PRODUCTS : CABLES
Dream System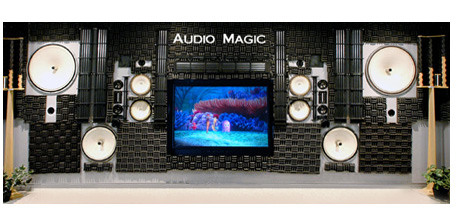 Here at Audio Magic, we build the most expensive sound systems in the world, and they are worth every penny. When only the best will do... look no further than Audio Magic. With over 60 years of experience no job is too big! We employ Master Electricians, Master Carpenters, and Jerry Ramsey -- designer of the PA-1 Super System. Each and every system is custom designed to fit your listening preference and lifestyle. Systems can be open faced like the PA-1 or hidden so you don't even know they are there, blending seamlessly into your decor.

Audio Magic systems will take you to a musical place that's often times better than "live" and most likely beyond "live".

Reason's to choose Audio Magic:

* We custom build the room to best suit you and your system.
* Life-Time Support Program.
* We custom design a one of a kind system for you.
* Expert electricians and carpenters.
* We will not leave until you are totally satisfied.
* Expert tuning of your new system.
* We can supply everything you need, amplifiers, cables etc.
* We do jobs world wide.

FOR SERIOUS BUYERS, WE OFFER DEMO'S OF THE PA-1 SUPER SYSTEM.