PRODUCTS : LOUDSPEAKERS : BV 3005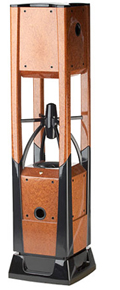 Torre is a powerful, dimensional acoustic system of the Campanile series, developed by Bolzano Villetri™ designers especially for serious home theater sound system or two channel critical music listening. Torre also can be used in high quality Hi-Fi systems. The exclusive distinctiveness of sound, the sense of it enveloping the listener, yet the clear direction from which individual elements can come, its quality of tone, and its volume - these are all merits of the innovative "RoundStream® Technology" found in the Torre system.
Using the Torre speaker system within stereo or multichannel systems for listening to your favourite music you will find new nuances in the recordings, while watching movies you will feel in the centre of the events taking place on the screen.
To neglect the design of Hi-Fi acoustics is against the principles of Bolzano Villetri™. Such magnificent sound should have a worthy shape. And Torre like the whole Campanile series is a vivid confirmation of that.
Torre front acoustics, possessing excellent sound and reasonable cost, will please you and present hours of true delight through their originality of sound.