PRODUCTS : LOUDSPEAKERS : BV SUBWOOFER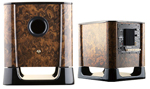 The case of BV Subwoofer is noteworthy for its rather small volume, but its inner power can be envied even by larger representatives of the elite subwoofer class. The main secret lies in the incredibly powerful amplifier and loudspeaker, whose parameters have been designed to optimize effective ultra-low frequency range reproduction, and also in the super-rigid case design which completely eradicates undesirable vibration and top bass colouration.
The BV Subwoofer external design cannot be called revolutionary. It has been executed in the uniform Campanile style. Bolzano Villetri™ cares not only how the subwoofer will sound in your home audio or home cinema speaker system, but also about how it will fit into the system, as well as your home. The ultra-low bass of the Bolzano Villetri™ BV Subwoofer will give you plenty of new sensations from listening to music and watching movies.