PRODUCTS : LOUDSPEAKERS : CL-3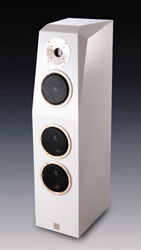 The Chorale CL - 3, 3-way floorstanding bass-reflex speaker is designed with the music-lover and audiophile in mind. Its design maximises the latest in tweeter and voice-coil technology with the aim of satisfying the ears of the most critical music-lover.
Twin Ribbon Tweeters
The CL - 3 is quipped with Volent's patented twin-ribbon tweeter giving unrivalled treble response none of the dispersion limitations hitherto associated with this technology.
Specially Select 6" Midrange drive unit
The hextech enabled midrange unit is dedicated through our purpose designed and built crossovers to reproduce perfectly  the 1 - 3 KHz range.
Twin Hextech voice coil 6" Woofers
2 x Hextech voice coil 6" woofers provide the rich and sonorous bass down to 32 Hz.
All Chorale CL-3 has been finish with outstanding quality wood board, 100% wool filling, specially design vertically placed crossover for minimize crossover vibration. The CL - 3 is  available in 3 different colours, black, pearl white and mahogay with pecially treated high-gloss finishing.