PRODUCTS : LOUDSPEAKERS : VL-4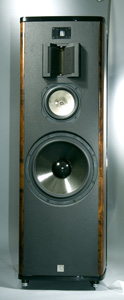 With mind of pursuiting the purest music,Paragon VL-4,property the best loudspeaker system in the world was born. It dives from 20Hz and climbs to 100Hz with excellent dynamic and detailed resolution, namely the brightest instrument for all kind of music performance.
Volent's Patented super tweeter and Air Motion Transducer give greatest details
Paragon VL-4 equipped with proprietary patented Twin-Ribbon super tweeter and special selected Air Motion Transducer. Treble's performance is maximixed with greatest details and definition.
7"sandwich cone drive unit gives unbelieb\vable detailed midrange
7"midrange unit's cone is made of latest technology. Inner layer is made of Syntactic Polymer Hardfoam, outer layer is Graphite with Titanium ionized and sprayed on its surface. Graphite's elasticity and Titanium's stiffness and with specially designed copper Faraday Ring, Counter-electromotive force is minimized and gives the fastest and highest dynamic midrange.
12"woofer wquipped with Nomex Hexcone gives highest dynamic bass
12" Hexcone woofer performs with the most dynamic bass with fastest impulse response. The woofer cone is made of Kelver and Nomex material.
Finest Craftmanship and best Point-to-point Crossover network
The Paragon VL-4's crossover network are soldered by our senior engineer by point-to-point struture. The reason for this is because Point-to-point network can 3 times much wider signal path than normal PCB does. The result is Paragon VL-4 got fastest response without losing any music details.
All Paragon VL-4 is crafted with highest quality wood board, 100% wool filling, European veneer with High Gloss finishing.