PRODUCTS : CABLES : CT-1 Enhanced Phono
CT-1 Enhanced Phono Cable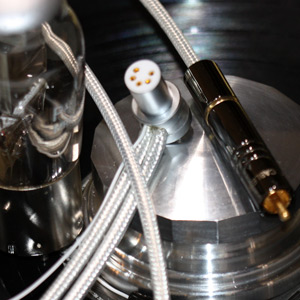 Low level signals as created by a phono cartridge are fragile and can be easily distorted and even lost. These signals have almost no current and are driven by voltages that may have maximum output of as little as 0.2 volts or lower. A testing facility in Canada contracted by Magnetic Innovations LLC tried testing these signals as low as -59 dB. They discovered that long after conventional audio cables significantly obscured test signals, our CT-1E phono cable using Magentic Conduction technology were still at work clearly transferring this low level information.

The CT-1E Phono is available in the following configurations.

RCA to RCA
DIN to RCA (standard din plug)
DIN to RCA (right-angle din plug)
Tonearm Direct to RCA (please enquire with us) 
$2800 for 1 meter
(each additional 0.5 m is $350)
ENHANCED VERSION


The CT-1E has all the features of the normal CT-1 along with the following:


A new conductor alloy is used in the enhanced version which has a greatly increased ferromagnetic permeability for increased levels of Magnetic Conduction and peformance.

The conductor is treated with a proprietary material that lowers dielectric absorption so signals are not held back by the change in electrical charge of the teflon dielectric.

The PinLok connector has been redesigned for increased ferromagnetic permeability in the pin itself. This allows low level signals to move more easily into the conductor.

Precision 24K gold plate is applied at 300 microns which is double the industries thickest plating standard. The ground ring is also plated to help ensure optimal low level signal performance.