PRODUCTS : LOUDSPEAKERS : The PQS 201 MK II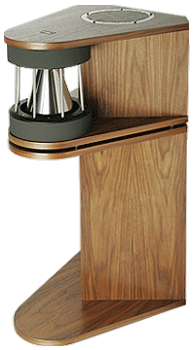 THE PQS 201 MK II
The PQS 201 Mk II is a 2 way design that uses a single DDD driver coupled with a vertically firing woofer. It is intended for use in both 2 channel and high end home theatre systems. It may be mounted on the dedicated PQS stand; on shelves or directly onto the wall using an optional wall attachment kit.
Easy Location
The PQS 201 Mk II may be positioned against the wall. This minimises its intrusion into the room and makes it ideal for smaller listening rooms as well as home theatres.
The DDD Driver
The DDD driver is used on all German Physiks loudspeakers and the same quality of driver is used on all models from our entry level product, to the top of the range Gaudi. This revolutionary driver gives the same very important advantages to all German Physiks designs and is what sets them apart from our competitors.

Its very low moving mass enables it to operate linearly over an extremely wide frequency range. The titanium DDD driver used on the standard PQS 201 Mk II covers the entire range from 280Hz to 21,500Hz. In a conventional design, this range would be covered by two or even three different types of driver and most importantly there would be a cross over point in the mid range, the area where our hearing is most sensitive. The DDD driver's wide operating range allows this vital region to be kept free from the level and phase anomalies that multiple drivers and a necessarily more complex crossover would create. This enables the PQS 201 Mk II, like all German Physiks loudspeakers, to produce very accurate and realistic stereo images.

Another key advantage of the DDD driver is that it is omni directional, so these excellent stereo images can be enjoyed from a wide range of listening positions, unlike conventional designs which have much smaller "sweet spots" due to the tendency of their drivers to beam the sound. This is an ideal property in a speaker that might be used in a home theatre system where there could be many listeners.

Modern movie soundtracks are very detailed. In many cases not only will there be a large orchestra that on its own covers a very wide frequency and dynamic range, but there will be complex sound effects sections, as well as the voice tracks. The DDD driver's low moving mass gives it exceptional speed and low distortion enabling it to clearly resolve all the elements in even the most complex soundtrack and thereby greatly enhance the total viewing experience.

The DDD driver is phase linear across its operating range ensuring that the timbral character of each musical instrument is reproduced with great accuracy. This also makes sound effects more believable and is particularly noticeable on complex and very dynamic effects.
Low Resonance Cabinet
To minimise resonances and cabinet talk the PQS 201 Mk II's cabinet is constructed from heavy MDF panels with additional internal bracing to increase rigidity. Any residual cabinet talk is minimised by applying Hawaphon, a special damping material, to the inside of each panel. Hawaphonis a polymer sheet containing a matrix of small cells filled with very fine steel shot and was originally developed as an anti-surveillance measure for use in military and government buildings. It adds mass to the panel to reduce the resonant frequency and the ability of the shot in each cell to move against each other provides a very effective way of converting vibration energy into heat. Hawaphon achieves a broadband attenuation of structure-borne sound of more than 50dB. To damp resonances of the air within the cabinet, the whole of the inside of the cabinet is lined with a thick layer of high density felt.
Adjustable High Frequency Output
Jumpers on the loudspeaker's rear panel enable the high frequency output level to be adjusted in 4 steps: -2dB, flat, +2dB and +4dB. This allows the user to easily compensate for the variations in the absorption of high frequencies that occur due to different types of furnishings and room construction. Separate input terminals are provided for the DDD driver and woofer sections of the crossover allowing the PQS 201 Mk II to be bi-wired.
Hand Finished Cabinets
The PQS 201 Mk II is available in the customer's choice of hand matched, hard wood veneers. Cabinets supplied in our High Gloss option are coated with several layers of lacquer and then hand polished to a deep lustrous finish. This can be re-polished in the event of it receiving minor damage.
Special Order Version
A special order version of the PQS 201 Mk II is available fitted with a carbon fibre DDD driver which provides an extended upper frequency response, greater low level detail resolution and improved dynamics. The cabinet's heavy MDF panels are reinforced with multiple layers of bi-directional, resin impregnated carbon fibre, which are applied using techniques originally developed for the aircraft industry. This produces a cabinet that is immensely rigid and strong, as well as being practically free from resonances within the audio frequency band. It also reduces the radiation of sound through the cabinet's panels which further improves the PQS 201 Mk II's resolution. The cabinet is coated with a multi-layer lacquer and then hand finished to a high polish. A carbon fibre version of the PQS stand is also available.
The PQS 201 MK II Specifications
 
With Titanium DDD Driver
With Carbon DDD Driver
 
 
 

Impedance

5.8 ohms at 130Hz
5.1 ohms at  2.2Hz
 
 
 

Frequency response

60Hz – 21,500Hz
60Hz – 24,000Hz
 
 
 
Power handling
 
 
   Nominal
Short term

70W
100W
70W
100W
 
 
Amplification required
Minimum 70W/4 ohms
Minimum 70W/4 ohms
 
 
Crossover frequencies
280Hz
270Hz
 
 
Crossover slopes
 
   DDD section

12dB/octave electronic &
12dB/octave acoustic
12dB/octave electronic &
12dB/octave acoustic
   Woofer section
12dB/octave electronic &
12dB/octave acoustic
12dB/octave electronic &
12dB/octave acoustic
 
 
High frequency adjustment
-2dB, flat, +2dB and +4dB centred at 8,000Hz
 
 
 
Sensitivity
86dB for 1W at 1m
86dB for 1W at 1m
 
 
Operating principle
2 way loudspeaker with 360° surround radiation using the DDD Bending Wave Converter.
 
 
Input connectors
2 sets of binding posts
 
 
 
Drivers

1 x Titanium DDD driver
1 x 6 inch woofer


1 x Carbon DDD driver
1 x 6 inch woofer
 
 
Dimensions
 
   Speaker
430mm W x 305mm H x 500mm D
16.9" W x 12.0" H x 19.7" D
   PQS Stand
430mm W x 615mm H x 500mm D
16.9" W x 24.2" H x 19.7" D
 
 
Weight
 
   Speaker
21.0kg
46.2lbs
   PQS Stand
9.7kg
21.3lbs
 
 
Warranty
5 years