PRODUCTS : LOUDSPEAKERS : Unlimited MK II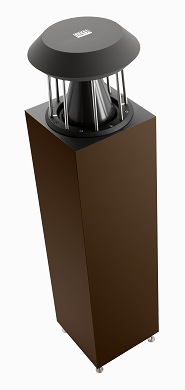 Unlimited MK II
The Unlimited MK II is a purist design. It provides the famous German Physiks trademark dynamics, transparency and musicality, but at a new lower price point. It is exceptional value for money and makes the unique enjoyment that German Physiks loudspeakers can provide available to a much bigger audience. The Unlimited MK II uses a single carbon fibre DDD driver and a downward firing 8-inch woofer.

Top Quality Sound at Lower Cost
The most important design objective for the Unlimited MK II was that the lower price would be reached without compromising the sound quality and musicality that our loudspeakers are famous for. We have achieved this by designing a simpler cabinet and reducing the number of finish options compared to our other models.
Stylishly Simple Design
Not only is the Unlimited MK II an exceptionally good sounding loudspeaker, it is also our design statement. The design is intended to be both elegant and simple, so that it blends into its surroundings rather than draws attention to itself. We want the listener's attention to be concentrated entirely on the music.
To preserve the Unlimited MK II's clean appearance, we have deliberately not put our logo on the front of the cabinet. Attention to fine detail extends to the back of the cabinet, where we have selected titanium finish loudspeaker terminals, which better match the solid colour finishes we are using. Although these cost more than the equivalent gold finish terminals, we were not prepared to compromise: even on parts you would not normally see.
The Unlimited MK II's cabinet footprint is only 24cm by 24cm (9.5" x 9.5"), so it takes very little space on the listening room floor. The cabinet itself is covered with a high quality acoustic vinyl. This has a satin textured finish and is available in white, grey, black and dark brown. These colours will match a wide variety of interiors. This finish is also extremely durable and will withstand knocks and bumps that would damage conventional wood or paint finishes.
The Unicorn MK II Specifications
Impedance

4 ohms

Frequency response

32 - 24,000Hz
Power handling
Nominal
Short term

110W
170W
Amplification required
Minimum 90W/ 4 ohms
Crossover Frequency

200Hz
Crossover slopes



DDD section

Woofer section

6dB/octave electronic & 18dB/octave acoustic

18dB/octave electronic & 18dB/octave acoustic
Sensitivity
88dB for 1W at 1m
Operating principle
2-way loudspeaker with 360-degrees surround radiation using the German Physiks DDD driver
Input connectors
1 set of binding posts
Drivers
1 x Carbon fibre DDD driver
1 x 8-inch Woofer
Dimensions

240mm W x 1,050mm H x 240mm D
9.5" W x 41.3" H x 9.5" D
Weight
28.9kg
63.7lbs
Warranty
5 years