PRODUCTS : ELECTRONICS : SDO 768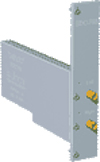 Sending Data
What is the need of a perfect digital audio signal, if it don't leave the behold pre-amp APU768? For this purpose there is a module named Serial Data Output.
Always Two Channels
This unit always transmits two channels at the same time, at stereo left and right. The digital data transfer is send at a rate of 768kHz two amplifiers in mono mode attached or 384kHz one amplifier working in stereo mode.
Receives Diagnostic Data
Furthermore here are data received from the attached device of the family behold BPA768 or also by behold DAC768. These are data about the condition, e.g. diagnostic data.
Simple 50Ω Cables
The data transfer will be done on simple 50Ω standard cables. In normal use as well as in multiroom the distance sets no limit while using at home. 
Distances up to 10m
In case of distances up to 10m a connected DAC768 can be supplied by the behold pre-amp APU768 via the power feeding which is running with the digital data transfer.
Distances more than 10m
In case of a longer cable it is recommended to supply the DAC768 additional with a small plug-in power supply.
Without plug-in Power Supply
When using a final stage of the family behold BPA 768 long cables may be operated without additional plug-in power supply. The required feeding is carried out in the final stage itself.
The number of SDO768 in the pre-amp behold APU768 is limited to at most eight.